A GUIDE TO PREPARE FOR THE 2019 TRAIL: HOW TO SET GOALS AND ACHIEVE THEM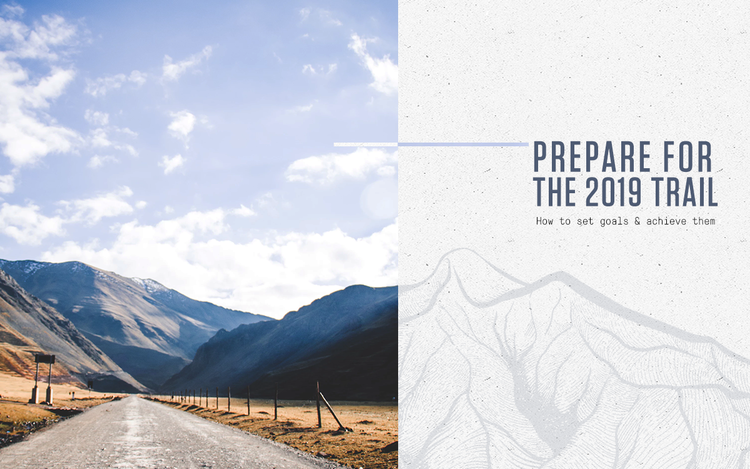 A GUIDE TO PREPARE FOR THE 2019 TRAIL
The year 2019 is here, and we want to make sure you have all the information you need to take on the trail this year. Are you tired of making "New Year's resolutions" that you never seem to achieve or get to once the year starts getting busy? It is time to change our outlook of goal setting and try a new approach to implementing good habits on the trail. 
This guide will assist you in setting meaningful goals that will prepare you for the year ahead – for both on and off the trail.

It is easy to start setting goals that are amazing and out of this world. However, it is just as easy to lose motivation over time. This is a stone on the path – a stone everyone encounters and need to overcome. The best way to do so is to set goals that align with your purpose or your trail. To achieve your goals, you need to have that internal motivation. 
For example, wanting to start being more fit because it's the trend or someone commented on the amount of cake you eat, will not have a lasting motivation for you. However, if you have a conversation with yourself and you are determined with your choice, your motivation won't fade over time as it comes from your internal purpose and will. 
Goals need to be from your deepest dreams and desires. When your intentions come from the right place and with the right intent, you are more likely to remain motivated.

It is good to know what you want and where you are going at all times – a map for the trail. Therefore, it is good to have your goals written down and visible for you to see at all times. Goals that are written in some random book and stowed away will be forgotten over time. 
If you have your goals written on sticky notes on your mirror or fridge – you will more likely be motivated to achieve them. It is a good reminder of your destination, and you will be able to review your goals and see if they are still in the pipeline. Having them in sight is an excellent way to track your progress as well. 
It will keep your focus on a daily basis.

When setting goals and dreams, the process starts with you assessing your life. This is a very personal process. However, keeping those dreams and goals to yourself can be counter-productive. Therefore, having an accountability partner is a great way to have someone to talk to who can keep you on the trail. Having someone with you on the path holding you accountable will make achieving your goals more likely. 
How? An accountability partner is a way of tieing your goals to someone who will make sure you are on the path to achieving your goals. 
For example, if your goal is to get fit, a personal trainer is an excellent person to have as an accountability partner. If you are looking to be more financially savvy, someone who works in the financial industry will be a good choice. 
An accountability partner is not someone who is going to achieve your goals for you; they merely serve as someone to keep you on the path to completing your set goals.

When on the trail you are bound to encounter some stumbling blocks that will cause you to stop, quit or completely take you off course. Before setting any goals, understand that stumbling blocks are real and will occur. 
The best way to deal with stumbling blocks is to acknowledge them and anticipate them. Furthermore, create ways to overcome them. Create a list of the stumbling blocks you think you will encounter and put plans in place to overcome them. This will serve as your detour or contingency plan while on the trail.
These may seem to be four simple steps to implement into your goal setting routine. But they are steps that will assist you in making those meaningful goals and achieving them by the end of the year. If you find this blog interesting and attempt to use this information, please let us know by tagging us in your social media posts. 
We would love to hear how you are doing your trail.