Inspiring Meal Prep Ideas for an Optimised Lifestyle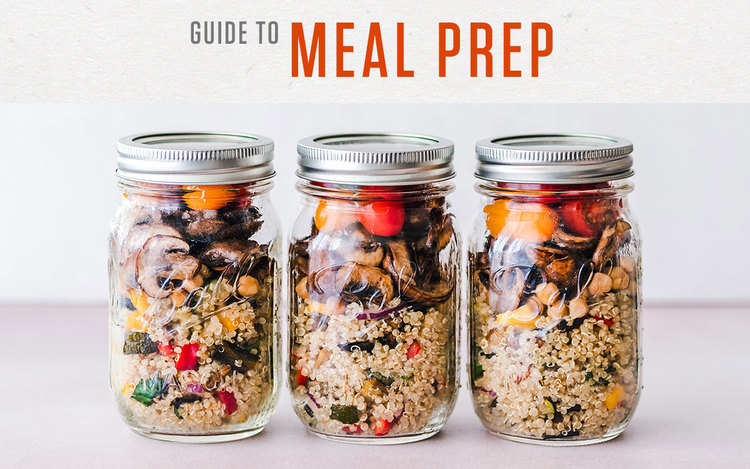 We believe that nothing should get in the way of enjoying active outdoor adventures. But we also know that sometimes life only starts after the 9 to 5, and it can be so easy to get stuck in a rut. 
Home to work, work to home, gym, shower, cook supper… By the time you're done in the kitchen, you don't have any energy left. That's why we've come up with a few reliable meal prep pointers to save you time without compromising on healthiness and quality.
Getting Started
The first step is to have a good look at what your needs are. Do you need a big breakfast and a light lunch? Or do you prefer small snacks throughout the day until dinner? Are you looking at portion control for weight-loss or are you looking to pack in more protein and carbs for more energy or muscle gain?
Once you've answered these questions for yourself, you'll have an idea of the style of meal prep that will suit your lifestyle best. Next, you plan and plot and shop and cook!
Our favourites
Here are some of our favourites to serve as an inspiration board before you start your journey into meal prep.
Breakfast
> Yoghurt Parfait
A good old plain Greek yoghurt will shine with some berries, nuts and cinnamon. Easy to eat while you get dressed in the morning or to package and keep in your work fridge.
---
> Breakfast Egg Muffins
These simple muffins are packed with protein and quick to whip up and slot into the oven. With a basic recipe, you can get as creative as you want, from switching up different cheeses and adding spinach and ham, to spicing it up with paprika or chilli flakes.


Breakfast Egg Muffin Recipe from Cafe Delites
Snacks
> Hummus & Veggie Sticks 
Hummus can be store-bought in a variety of flavours, but you can also make your own with a fairly short list of ingredients. This versatile dip goes well with almost anything. We recommend cucumber, celery, carrot and bell pepper, and for those who need the extra carbs, rice crackers and pita breads work well, too.
---
> Biltong 
This distinguished South African snack is not only rich in protein and low in carbs, but also super tasty! Either divide out portions for each day of the week alternating with nuts for every second day, or throw it into a salad with avocado and mango for something more substantial.


15 Healthy snacks you can take to work by VeryWellFit
Lunch
> Buddha Bowl
Easy to prepare in bulk to distribute into containers, as well as tasty and nutritional, the humble Buddha bowl allows you the freedom to dress it up to your taste. Choose for yourself which proteins, grains, fruits, vegetables and nuts you enjoy and get as colourful as you wish!
---
> Tomato Soup  
For those who prefer a warm meal, this can be made with ready-made ingredients or from fresh tomatoes, depending on how much time you have. Add basil to give it that extra flavour. 


Roasted Veg Buddha Bowl by Hannah Chia
Dinner
> Zucchini Spaghetti Bolognese
A healthy twist to an old classic, this can be made in bulk and frozen for the perfect heat-and-eat family meal. Keep some grated parmesan in the fridge to sprinkle on top before serving.
---
> Thai Coconut Curry & Jasmine Rice
This wholesome curry will fill your home with irresistible aromas as you reheat it, and the fragrant coconut milk has far fewer calories than normal whole milk. Garnish with coriander when serving and enjoy!


Thai Red Curry Shrimp with Jasmine Rice by Cooking with Cocktail Rings
Now that you've seen that meal prep doesn't have to yield bland results, if you're inspired by these tasty meal ideas, get planning and make the most of all of the extra time you are soon to have. 
Because at Merrell, we're all about optimising your performance.