Nature's Pantry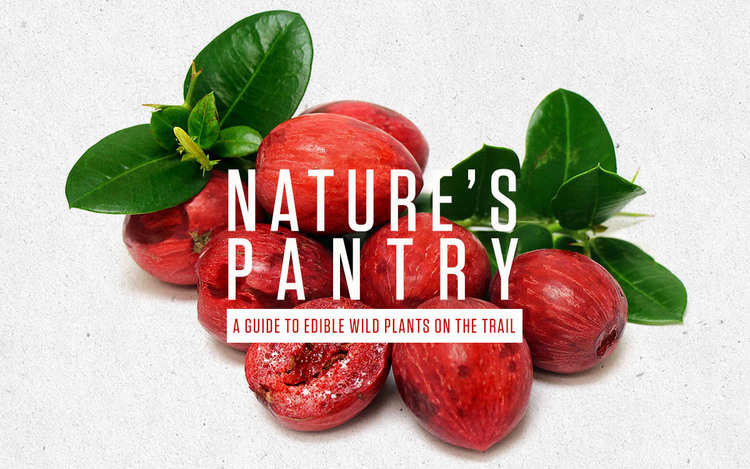 Mother Nature can be relentless at times when embarking on the trail, leaving you hungry, thirsty, sick and in absolute destitution, if not prepared. However, South Africa boasts a wide selection of edible flora that can be found on many a trail, with not only dietary value, but medicinal properties too. So when you find yourself down and out in the wild or maybe just want to try a more "holistic" diet, some plants can be very resourceful.
Most importantly, it always advisable to do an edibility test if you're not completely sure whether a plant is edible or non-toxic. Here's a trusted guideline:

If you're fortunate enough, you'll probably find some of these plants on the trail, packed with nutrients and some great medicinal qualities:

Scientific Name:
Carissa Macrocarpa

---

Description:
Also known as the "Natal plum", this wind-resistant shrub grows on dunes and coastal bush, it ranges from a thorny shrub to small tree of up to 4m high. It has shiny dark green, Y-shaped thorns and berry-shaped fruits that range from green to pink in colour. The plant also exudes white, milky latex that non-toxic (unlike its relative, the oleander, which is extremely deadly).

---

Uses:
The red to pink berries can be eaten raw or cooked. They contain calcium, magnesium and have a high Vitamin C content (higher than that of citrus). It is still used in Western cooking in stir-fry, jellies, jams, marmalades and chutneys.
---

Scientific Name:
Citrillus lanatus

---

Description:
Also known as the "makataan", this African melon can be found growing in grasslands and bushlands in sandy soils near water sources. It has hairy stems and three-lobbed leaves The fruit can be likened to a melon in size and colouring, and the flesh is yellow to pale-coloured with red-brown pips nestled in the flesh.

---

Uses:
It is believed that a person can survive 5-6 weeks on a Tsama-exclusive diet. This versatile fruit has been used by African tribes for centuries, and is still used today to make jams and preserves. It consists of more than 90% water and is high in Vitamin C, absorbic acid and almost zero calories.
---

Scientific Name:
Portulacaria afra

---

Description:
This indigenous, ever-green shrub is found predominantly in the Eastern Cape and semi-arid Karoo areas. The shrub can vary in shape and size, has small round succulent leaves and red stems. If and when they flower, they carry small star-shaped flowers.

---

Uses:
It is a favoured staple for elephants, rhinos and kudus, but humans also seem to benefit from the juicy and moisture-rich leaves – it actually serves as a great hydrator and "pick me up" when hiking in the arid Karoo. It is packed with Vitamin C and other minerals, and is becoming a super food in modern cuisine.
---

Scientific Name:
Vachellia karroo / gum acacia

---

Description:
Also known as a "thorn tree/doringboom", this tree secretes a sticky, gum-like sap. In South Africa, these trees can be found mostly in the Highveld and Karoo regions. The tree can be identified by its rounded crown, red to dark bark, yellow pom-pom flowers, flat and narrow seed pods and long white thorns. The gum it secretes can vary from opaque to amber coloured clusters.

---

Uses:
The gum can be ingested or applied to any part of the body. It is known to have great antiseptic qualities and can be used for relieving sore throats, sooth coughs, heals wounds and promotes oral health. Another study has showed that it is also a great source of fibre and can also reduce body fat. Commercially, acacia gum is available in crystal and liquid form, and is used in food, drinks and various medicines and cosmetics.
---

Scientific Name:
Aloe ferox

---

Description:
This succulent can be recognized by its swollen, lance-shaped leaves (with thorns on the edge) and orange candle-like inflorences. The leaves can vary from green to pale grey and bunched together in rosettes. This hardy plant occurs mainly over the sub-Saharan African regions.

---

Uses:
The aloe is celebrated world-wide for its medicinal and cosmetic qualities. It is filled with antioxidants and has anti-inflammatory antiseptic qualities. The leaf sap or gel can be ingested as a laxative, to treat arthritis, conjunctivitis and sinusitis. It can also be applied to the skin as a remedy for sunburn, abrasions, cuts and bruises.
---