The Kingdom of the Sky, a brutal proving ground for Team Merrell Songlines.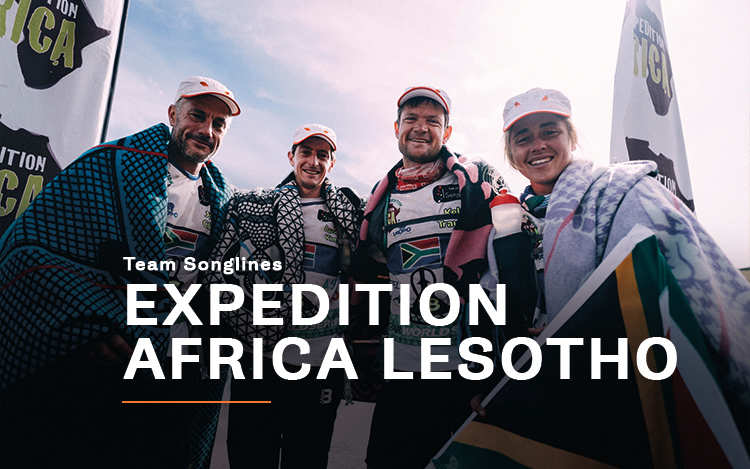 On 3 April 2022, teams from 11 countries took on Expedition Africa, a 500km adventure race through Lesotho, the 'Kingdom of the Sky'.
"Lesotho is rugged, wild and cold but has some of the warmest hospitality. You will be hard pressed to find a better place to host an adventure race or provide a better backdrop for the best adventure race teams in South Africa to go head-to-head with some of the top international teams." said Adrian Saffy, who has done 10 Expedition Africa Adventure Races.
The week-long event was the second race in this year's Adventure Racing World Series, but for Team Merrell Songlines it was their first ever expedition adventure race together. Their team consisted of Songlines regulars Lance Kime, Jess Pollock, and Kelvin Trautman, but new to the team was adventure race veteran John Collins.
Team captain Kelvin Trautman added, "for Jess and I, this was our first expedition length race and so having John in the team with his wealth of racing experience and skills as a navigator was a huge asset."
John Collins added, "I have raced over many years with a number of different teams nationally and internationally. 2018 was my last international race but mentally I was ready to go back. When I was asked to race with Team Merrell Songlines, I was very excited to be trusted into the team. I have been following their progress closely over the past year and I've been very impressed with what they have managed to achieve in such a short space of time, especially seeing them clinch the 2021 African Adventure Race World Series as relative newbies to the sport."
With the race preparation out the way the Lesotho edition of Expedition Africa began with a fun and fast orienteering leg around the mountain village of Semonkong, which involved guiding a donkey (per team) to a few the town's landmarks. Teams then descended into the Maletsunyane canyon and past the 192m Maletsunyane waterfall, in what was a spectacular start to a physically demanding 70km trek along the Maletsunyane river.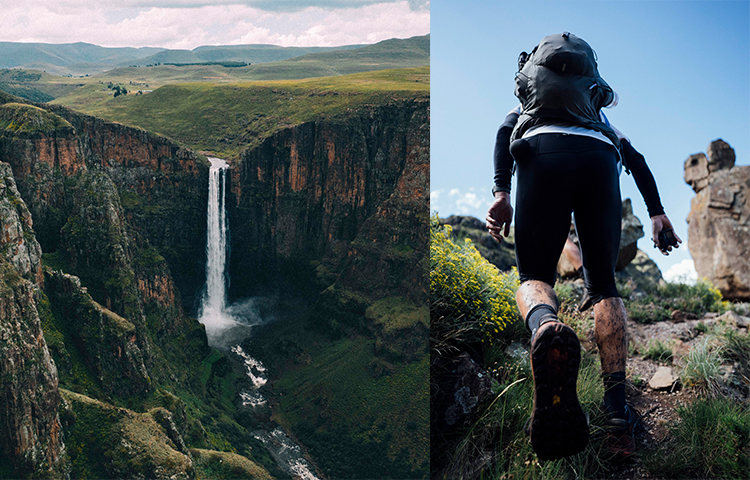 "Predictably the pace at the start was fast. A few hours into the canyon trek leg we found ourselves at the front. As it started getting dark though we were caught by the French team, 400Naturex and the Estonians. We always knew Estonian ACE and 400Naturex were likely to be the pace setters and our game plan was to try be in touch with whoever was leading for the first half of the race and then use the paddle in the second half of the race to try get a gap.", commented Kelvin Trautman.
"Midway through the first leg we were hit by a classic high mountain thunderstorm. There was lots of lightning and heavy rain. The already swollen rivers surged even more which made some of the river crossings quite perilous. I still have flashbacks of the four of us all linked together, wading waist deep into the murky fast flowing rivers.", recalled Jess Pollock.
The eastern part of Southern Africa this past summer has been very wet, and it was no different over the race, particularly for the first couple days. The intense rain that began falling during the first leg continued to hamper teams progress on the following leg, a gruelling 214 km mountain bike, which included over 6000m of vertical gain.
At 150kms into the bike leg and 40 hours into the race, Team Merrell Songlines were lying 3rd overall behind 400Naturex and Estonian ACE La Sportiva. It was here that disaster struck though. Kelvin Trautman recalls, "after the heavy rain the day before some parts of the bike course were almost unrideable due to thick mud. In one of these sections I lost traction of my front wheel and landed awkwardly causing a few spokes to break on my front wheel. Unfortunately, we weren't carrying any spares and after nursing the bike for another 50kms a few more spokes broke making the bike almost unrideable. We decided to sleep for a few hours and then make a final call on whether to continue racing or not. In the end we chose to get outside assistance rather than risk catastrophic failure of the bike and potentially getting injured. It was hugely disappointing to end our official race, especially since we were in touch with the leaders up until that point. As a team we were keen to get as much training together as possible though and so when the race organisers offered us a chance to re-join the race, unofficially, we jumped at it. We took on the last three legs, a 49km trek, a 45km paddle and a 53km trek, as if we were still racing, pushing as hard as we could all the way to the finish at Afriski Mountain resort."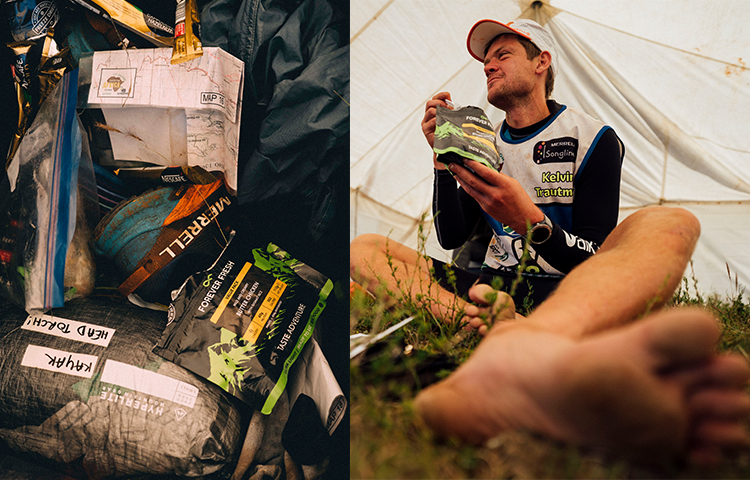 Race organiser, Stephan Muller commented, "it's a pity they could not get the desired result they were after. But I do think that they now know that they can hold your own with the top teams. That must be good for confidence."
Four days after the start, and 16 hours behind eventual race winners Estonian ACE La Sportiva, Team Merrell Songlines arrived at the finish at Afriski Mountain Resort.
"We are obviously gutted not to finish the race officially but the time spent out on course as a team was invaluable, especially getting to mix it with the top international teams. We learnt a lot and now have a good benchmark on where we need to be for World Champs in Paraguay in September," said Lance Kime.
"If all expedition adventure races are going to be as beautiful as this one, then it's going to be hard to give up this sport. We will carry memories of the scenery and friendly people of Lesotho for a long time to come." added a visibly emotional Jess Pollock at the finish line. "I'm really looking forward to more races with this team, particularly World Champs."
The Lesotho Edition was the 10th anniversary race for the Expedition Africa, all organised by Stephan and Heidi Muller. Heidi Muller, who is now the CEO of the Adventure Racing World Series, said, "It is such an incredible privilege to be welcomed to Lesotho, and share it with these wonderful people, who achieve so much. They are great, competitive athletes and, at the same time, so respectful of the places they see in the World Series, and of each other. Adventure Racing is the ultimate sport, and this week in Lesotho has proved once again that there is nothing else like it and nothing better."
For this race the team used the Merrell Agility Peak 4's and MTL LongSky footwear.
"Expedition Africa was brutal on bodies and gear, particularly footwear but I'm glad to report that between us all we never got a blister, or injury. This is impressive when you consider our total hike time for the three trekking legs was 48hrs, and much of this time was spent in wet shoes – we had to navigate 180kms of numerous, numerous river crossings, and muddy, off camber trails."