The Ultimate Guide to Outdoor Activity in Winter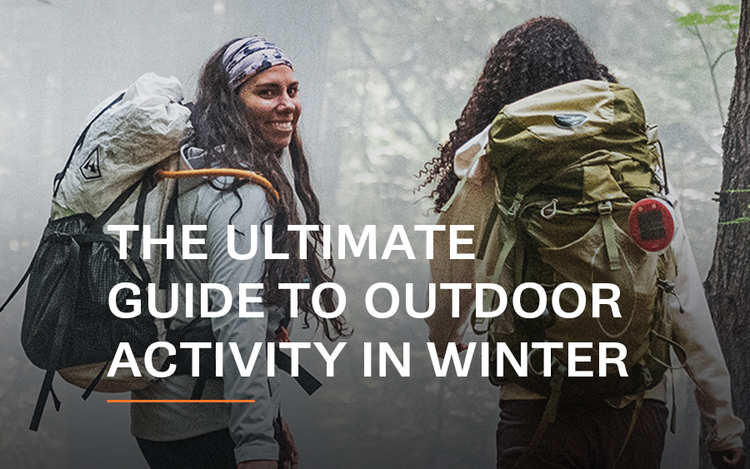 We're all familiar with those feelings of wanting to stay in bed under our warm covers during winter. While this is not necessarily a bad thing, how can you stop yourself from letting it affect your active lifestyle?
Understandably, being active outdoors feels easier when the skies are blue and the sun is shining, but this cannot be the deciding factor when it comes to enjoying nature. 
That's why we've compiled this list of tips and advice on how to keep your body moving outdoors this winter season!
1. Take In Your Surroundings
If you truly want to enjoy being outdoors this winter season, you need to allow yourself to really enjoy nature. This means enjoying the crisp, fresh winter air. Take in a deep breath, fill up your lungs, and overall enjoy the beautiful scent of winter plant life. 
Take a moment to bask in the chilly air. Imagine it as refreshing energy that is here to awake you and recharge your empty battery. 
Appreciating nature and being active outdoors have been proven to have a good effect on our mental health, something we discussed in our previous blog. This is why making the effort to be outdoors is important, even in winter.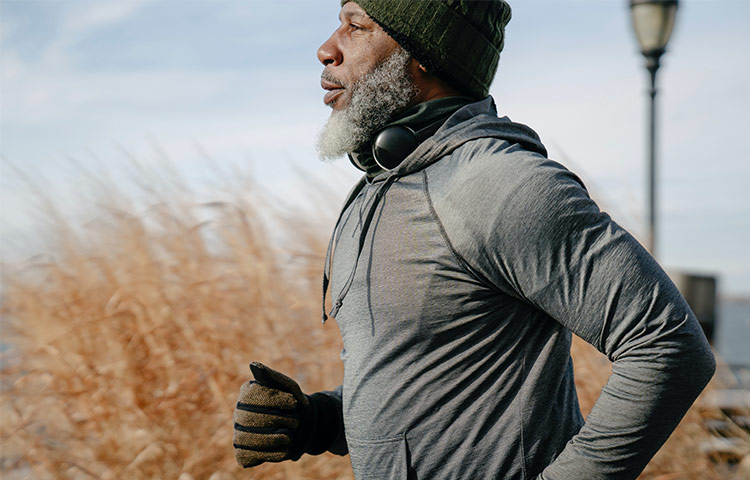 2. Schedule Your Activities
Plan out some outdoor activities that you love and stick to them! Doing any type of physical activity is much easier when you have a clear plan. So, take a look at your weekly schedule, find the times you have available for activities and plan a specific activity for that day.
Keep in mind that it does not always have to be some highly intensive workout session. Simple outdoor activities include:
Slow beach walks and end them off with a picnic
Neighbourhood jogs
Hikes
Cycling
Dog park walks
Strolls on your nearest golf course
Do some yoga at the beach or a park
Get a group of friends together for a workout at the park or even in your backyard.
Not only are these activities a great way to spend time outdoors, but all of them are also a perfect way for you to spend time with a group of friends. You can all enjoy getting your body moving and at the same time help each other stay motivated!
3. Journal About Your Activities
The best way to keep yourself persistent when it comes to fitness and outdoor activities is to remember how those activities made you feel. Keeping a journal and writing about how your body felt after a certain activity and what your energy levels felt like, might be a great reminder to keep going and continue on this routine. 
You will be able to record the activities that made you feel good and remember to do them more often.
Journaling is also a great way to keep track of your progress so you can look back and admire yourself for going out and doing something that week.
4. Invest in Warm Winter Gear
It is no surprise that being cold is the reason you prefer to stay indoors and under your blankets. That is why investing in good quality, warm workout gear is an important step for staying active outdoors in winter. Wearing the correct winter gear will help keep your body temperature regulated. Also, by wearing the correct layers for your specific activity, you will ensure that you are comfortable, and this is key to being persistent. 
For activities such as running or cycling, your body temperature is raised quite a bit, so you'll want activewear that is:
It is also essential that you wear the correct footwear for your activity. Winter often means icy or slippery landscapes. The correct footwear will ensure that you can avoid any possible injuries that could result from slipping and falling.
Luckily for you, Merrell has a wide selection of active footwear for different activities such as:
FORESTBOUND MID WP – This boot is cushioned well for long hikes and comprises protective and mid waterproof materials ensuring that your feet remain dry and comfortable for the duration of your hike.
AGILITY PEAK 4 – With a strong grip, protection, and cushioned soles, this trail running shoe will ensure that you are ready to take on the roughest trail out there.
ANVIK 2 – For those slower strolls or dog walks, the ANVIK is the choice for you. With waterproof materials and a sticky rubber outsole for traction, you'll be able to enjoy the crisp winter air with no slipping accidents.
The most important tip for staying active outdoors in winter is to feel good and have fun! Being outdoors is something that should be enjoyable. So, follow our tips, find your favourite activities, and let nature keep you happy and refreshed this winter season!