The Ultimate Guide to Trail Running Shoes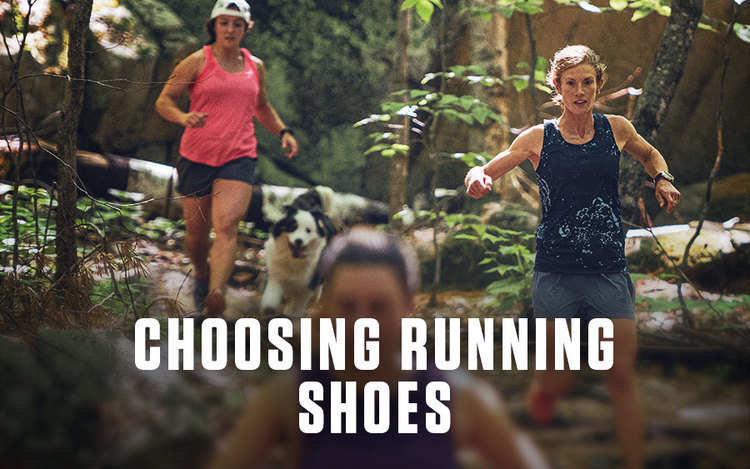 When it comes to finding the right trail-running shoe for you, it's tough to keep abreast with the latest technology and research. 
That's why we've compiled everything you need to think of when deciding which Merrell shoe is going to take you where you need to go!
---
THE GROUNDWORK
Trail-running shoes differ from road-running shoes in the same way that the trail is different from the road. 
When looking at buying your new shoe, you'll want to pay special attention to:
The tread – How deep and spaced out are the lugs underneath the shoe?
Foot protection – Is your foot protected from sharp rocks, leaves, roots and thorns?
Foot support & stability – Is the fit stiff enough to keep your foot in place on uneven and ever-changing terrain?
With this in mind, there are two big questions to answer in order to know how the above factors fit into your plans:
What kind of distances are you going to be running?
What terrain are you going to be running on?
1. Distance
For up to 10km, you'll want a shoe which is responsive, lightweight and nimble.
Going up to 50km, you'll need more cushioning and support.
And for anything between 50km and 100km, you will need maximum stability, comfort and protection.
2. Terrain
Here in South Africa, there are two main types of terrain that you are most likely to find. The third category is for those who choose to do both – those who run on a variety of terrains and need to be prepared for anything.
Hard, rocky ground with gravel or hard-packed trails – These trails don't require too much protection. But they should have a low profile, small lugs and breathable uppers.
Soft, muddy trails or mountain paths – These will need longer, widely-spaced lugs to offer grip and stop mud from getting trapped in the tread. Weatherproof uppers and stability support is also needed.
Variety or all terrain – Here you'll need the best of both worlds to prepare you for most surfaces. Medium lugs, flexibility, support and protection will all be required to a certain degree.
Now that you know the level of traction and various types of foot support that you will need for your type of trail, let's open your options just a little more by examining the cushioning and heel drop.
---
CUSHIONING VS HEEL DROP
These two hot topics are often confused or mistakenly used interchangeably. They are, in fact, two independent factors. 
For example, you could have a well-cushioned trail-running shoe which still has a zero drop!
Although the terrain and distance you run influences both the drop and the cushioning that you might need, you should evaluate each separately to find the perfect fit for you.
Cushioning
Your three most common choices when it comes to cushioning are barefoot, traditional and minimal. All three have their place when it comes to the types of trails and distances, as well as your own personal running preferences. 
Barefoot – This revolutionary shoe style offers almost no padding or cushioning in order to replicate the feeling of running barefoot. What you get out of it is an enhanced feel of the trails you run and of your body's biomechanics.
Traditional – From traditional to maximum cushioning, you are assured the support of cushioned midsoles and more. What you get out of it is a shoe which makes trail running a bit easier on the joints and reduces fatigue on long-distance runs.
Minimalist – This is your middle-ground or transitional trail-running shoe if you are hoping to make the switch to a barefoot running shoe. What you get is a closer feel to the trail, without giving up the midsole cushioning that you might still need.
Heel drop
The heel drop, or heel-to-toe drop, is a measurement which heavily impacts your running mechanics. 
To calculate the drop, you would subtract the cushioning height at the toe of the shoe from the cushioning height at the heel. The cushioning is made of the combined height of the insole, midsole and outsole of the trail-running shoe.
Heel-to-toe drops can range from 0mm to over 12mm. 
Depending on your own running style, you might have a preference of the type of landing which occurs when your foot hits the ground. If the heel strikes the ground first, there is a higher shock in your stride. If you run with a mid-foot or forefoot landing, you might run faster and reduce the biomechanical strain on your body. The smaller the heel drop, the more likely you are to have a mid-foot or forefoot landing.
0mm drop (also called a zero drop) – Barefoot trail-running shoes
4-8mm drop – Minimalist trail-running shoes
8mm drop and higher – Moderate to Maximum or Traditional trail-running shoes
Something as fundamental as the cushioning and heel drop that you may or may not need for your chosen type of trail running shouldn't be oversimplified. But if you were to err on the side of caution, barefoot running might be best suited to shorter distances, and moderate to maximum cushioning shoes will shine best on long-distance trails. 
At the end of the day, it's all about the best fit, feel and comfort for YOU.
---
The Merrell Trail Blazer 
For everything you need, and nothing you don't, choose from our range of trail-running footwear.
If you're ready for barefoot running, choose from the Merrell Bare Access Flex 2 or the Merrell Trail Glove 5 – both with a zero drop.
If it's cushioning and protection you need, the Merrell Nova, Merrell Agility Peak Flex 2 and Merrell MTL Long Sky are your perfect partners. 
And if you need to be prepared for absolutely anything on your trail run, the Merrell All Out Crush 2 will equip you for the toughest conditions.
---
No matter the trail, there's a Merrell shoe for you. Let's hit the trails together!