TOP 10 GADGETS & GOODIES FOR THE OUTDOORS FANATIC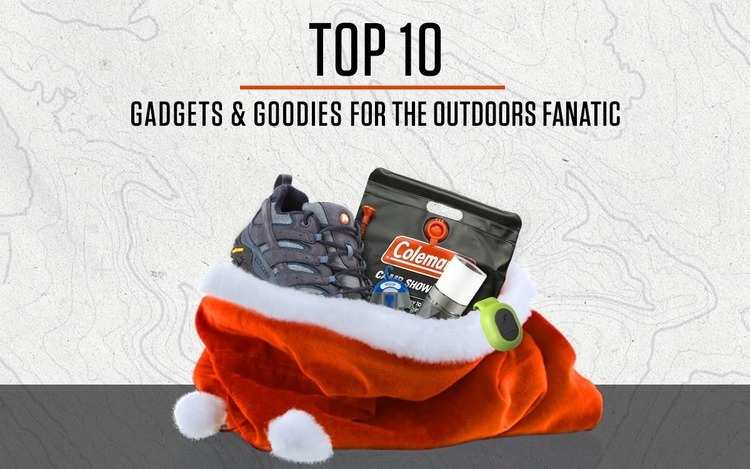 The festive season is around the corner, and so is summer. That means only one thing…time to get outside and explore the outdoors. So whether you're just going for a run on the trail, a hike into the wilderness or setting up camp in the serenity of nature, these gadgets and goodies will most certainly serve you well. And if you're not an outdoorsy person, we're sure there's an outdoor fanatic who wouldn't mind any of these as sock fillers this season.
MERRELL PACK-A-MACK

Being a Merrell must-have, this ultra lightweight and slim jacket can easily be stowed away. It's transparent design and breathability makes it the ideal clothing cover for all weather conditions for the outdoors, especially the trail, protecting you from the elements without limiting your performance.

MERRELL MOAB 2 SMOOTH

Sophisticated, yet rugged - this Merrell shoe is perfect for any and every outdoor experience. This iconic hiking shoe has been reinvented with full-grain leathers and tonal hues for trail-ready performance.

Its footbed is reinforced with Kinetic Fit Advanced contouring to ensure foot stability and support. And mesh accents and lining ensure breathability. This is the ideal hybrid for those who enjoy both trail running and hiking.

Available in Navy and Bracken.

All you need is some wood or any biomass to power this little heat and energy generator.

FLIPBELT

A great alternative to those bulky and impractical armbands, the FlipBelt neatly stretches and fits snug around the waist and boasts an array of pockets to store all your personal belongings in.

With it's sleek and tubular design you can now secure your possessions without the discomfort of buckles pinching or bulky pouches that bounce around as you move.

It secures everything you need while running, hiking, biking, working out at the gym, travelling and more.

LEISUREQUIP MOSQUITO KILLER WITH LED LIGHT- USB RECHARGEABLE

Kill two flies (or mosquitoes) with one swat – this ingenious portable light comes with a built-in bug zapper.

Simply charge it up, hook it up and enjoy for up to 8 hours of light covering a 30- 40 square meters – bug free!

The kit also includes a USB charging cable and a grid cleaning brush.

GARMIN RUNNING DYNAMICS POD

Simply pair the Garmin Running Dynamics Pod with your compatible smartwatch and/or smartphone, clip it onto your waist band, and let it measure and compute your running dynamics. 

The accelerometer in the module measures the following running metrics: cadence, ground contact time, stride lengths, vertical oscillation & vertical ratio. 

Now you can gain insight to and analyse your running metrics, understanding your current running form, and prepare for your next big race with insight.

AUKEY 16000MAH USB C SOLAR POWER BANK WITH QUICK CHARGE 3.0

Power banks are a dime a dozen these days; more so solar powered ones. However, the Aukey Solar Power bank is a versatile and rugged power bank that can withstand the elements and makes use of the latest USB technology.

It boasts dual USB output ports, charging two devices simultaneously at an optimum current, and also at 4 times the speed of its generic competitors, by using QuickCharge 3.0 technology.

So no need to chase after power outlets, plugs and cables. Let the sun power you…on the go.

OUTDOOR TECH BUCKSHOT PRO 3-IN-1

It's dubbed, "The Mullet of speakers: safety in the front, party in the back." The Buckshot Pro is a 3-in-1 comprises of a speaker, powerbank and flashlight. 

It also hosts a USB output for charging your mobile devices and includes a light with 3 settings - torch, lamp and strobe. The Buckshot Pro also comes with a bracket that mounts to your handlebars.

So whether you're on the move or just chilling out at the campsite, this little powerhouse has got you covered with light and sound.

LUNATEC AQUABOT SPORT WATER BOTTLE

One of the most functional water bottles you'll ever find…why?

This bottle is equipped with a variable flow trigger with 3 attachment points. Simply pump it to build pressure, twist the nozzle and select between mist, shower or stream and spray.

It's great for use in and around the home, but even better utilized in the outdoors for cleaning off dirty dishes, wound irrigation, hydrating yourself, putting out fires, rinsing off sand and saltwater, washing hands, cleaning gear and so on.

It is available in 650ml and 1 litre options to suit your needs and/or stowing capacity.

COLEMAN SOLAR POWER SHOWER

Hygiene and sanitary services are usually one of the biggest compromises one makes when going camping.

But why should one settle for a cold shower or "bird bath", when the Coleman Power shower can give you that hot shower you're used to?
This 5-gallon PVC camp shower makes use of solar power to heat the water. It also comes with a flexible shower hose with a handy on/off valve.

Not only is it nifty for showering, but also great for dishwashing.