Night Running – Pros, cons & safety tips to keep going through winter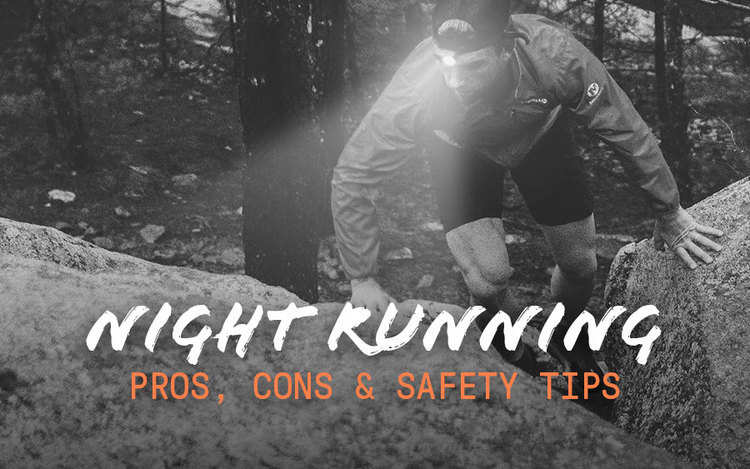 Life is cyclical. Just as we get into a good summer routine, it's autumn. And just as we settle into our autumn routine, it's winter. 
The one constant we strive to maintain throughout the year is a good amount of exercise and time spent outdoors. But when it starts to get dark early as the cold season sets in, it can easily feel as though there isn't any time left in the day for it.
Enter: Night-time running!
You don't want to lose your running momentum and endurance by pausing for three months, right? 
The solution is all in your preparedness. 
Read on to find out everything you need to know to embark on this exciting seasonal routine – and to find out how you can win the perfect night-time running gear!
The benefits of running at night
Not all things that you have no choice in are bad. Running at night offers a number of perks that running in the morning or during the day do not. Such as:
You don't have to wake up super early in the icy winter mornings. This also means that you are not stiff when you start preparing for your run. After a full day, you're far warmer when you start and it is far easier to make a quick outfit change and head out.
It encourages healthy choices throughout the day, specifically with meal choices. If you know that your day is going to end with a run, you know to avoid certain fried foods or bad drinks, for example. And even if you aren't eating based on your running plans, you definitely won't be running on empty like in the early mornings, and your food will have had ample time to digest adequately before your run.
Your run is independent from your other weekday routines and plans. By only running at night, you are allowed a busy day without needing to reschedule appointments, work around school pickups, or rush through after-work grocery runs.
Running at the end of the day can help relieve and release any stress, tension or frustrations from the day. You can also calmly mentally plan and prepare for the next day while running, which saves you from having a busy mind when you get into bed later.
You might have a better sleep. If you finish your run an hour or more before bed and ensure that you cool down properly and have a nice warm shower after, you may find it easier to fall asleep and experience more deep, quality sleep at night.
Dangers & Safety Tips
Unfortunately, doing something like night-time running to maintain a healthy lifestyle can carry with it a high risk of personal harm.
The most common of these dangers are petty criminals, collisions or accidents involving vehicles, and injuries from tripping and falling owing to lack of light. 
Here are a few crucial safety tips to avoid these things and ensure a safe night run every night:
Don't run alone; run with a friend or in a group. This can ward off criminals and also be the support you need should you get injured along the way.
Avoid dark, remote paths; stick to main roads or touristy areas. If you find a route that is busy (the good kind of busy), safe, and well-lit, stick to it. If not, keep changing your route until you do.
Keep your phone on you, but not in an easy-to-see or easy-to-grab place. Having it on you allows you to be reachable and to reach others – you can call a ride if you end up getting lost or end up too far from home in a bad area, and you can call the police or emergency services. It is also a good idea to really get to know the emergency features that your mobile phone offers, such as SOS and more, so that you can access them quickly and efficiently.
Keep your family or friends in the loop. Either ensure that they know your regular night running route or send them a live location when you run at night so that they can easily find you should the need arise.
Avoid listening to music with earphones, as this diminishes your ability to hear traffic, other runners and more. If you absolutely must, listen to your music on a low volume so that you can still hear the sounds around you. But the best option is a podcast or audiobook, as it is easier to hear background noises over the voices as opposed to music, and you'll still have something to entertain you and keep your focus off your body.
Stay alert not only with your ears, but also with your eyes. Be vigilant by taking note of other people you see on your route or of any suspicious behaviour. Sometimes all it takes is a quick crossing of the road to avoid a criminal opportunist.
Run against the traffic. It is easier to avoid what you can see than what you can barely hear. If you're dressed right, you won't be the only one doing the avoiding, because the oncoming traffic will be able to see you, too. A nod or wave at oncoming drivers can also make a difference in ensuring that you can be noticed.
How to dress right for running at night
Gear and apparel are everything when you're finally out on the road at night. Here are a couple of rules to keep at front of mind:
Don't wear dark colours. Opt for brighter, more visible colours instead.
Invest in as much reflective gear as possible. This includes vests, jackets, caps, backpack covers, belts and footwear. The Merrell MTL Long Sky, for example, is available in our Exuberance colour with reflective details for increased visibility in low light.
Wear a reflective cap with a bill. This can protect you from tree branches and other higher obstacles that are not as visible in the dark.
Wear a headlamp whenever you are out for a night-time run. It can do wonders for you to be able to see what's in front of you properly, as well as for others (like oncoming drivers) to see you from afar.
Want to win the perfect night-time running gear?
You can win the coveted Black Diamond Revolt Headlamp* valued at R1 349 AND a pair of Merrell trail shoes of your choice by taking part in our competition.
To enter:
1. Make sure you are following the Black Diamond and Merrell pages on:
Instagram – @blackdiamondsouthafrica and @merrellsa
Facebook – @BlackDiamondZA and @MerrellSouthAfrica  
2. Go to our competition page and follow the instructions to see if you have what it takes to be a night-time runner!
*Final headlamp prize may vary in colour according to stock availability.
Stay warm, stay safe and always step further, with Merrell.