Staycations & Hometown Adventures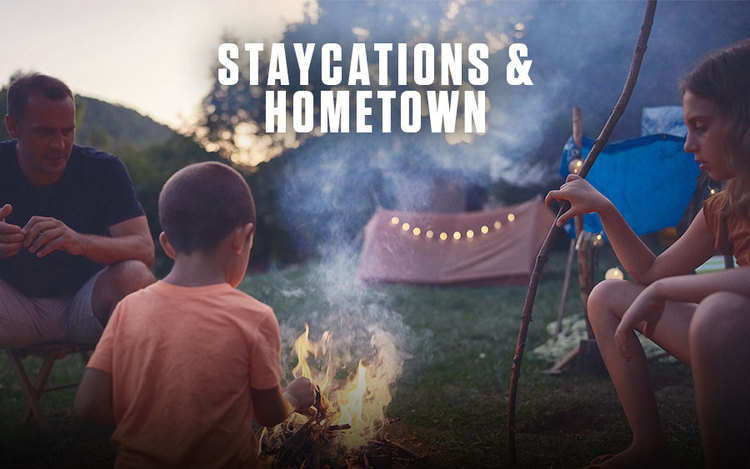 The grass isn't greener on the other side. The grass is greener where you water it.
At Merrell, we believe that the amount of fun you have is not dependant on how far from your front door you go.
Have a look at our tips to nail camping at home and playing tourist in your own town.
Camping at Home
There are two ways to camp at home, depending on the weather (or your courage!), namely: backyard camping or indoor camping. Once you've thought of the best home location for your camping experience, here are some ways to get the most out of it:
Pitch a tent – What is camping without tents and sleeping bags? Regardless of whether it is in your living room or the grass outside, tents are the primary component.
[Pro Tip: If you're used to camping indoors and want something a little different, replace the tent with a cosy blanket or pillow fort!]
Unplug – Leave your phone behind, as well as the usual light options. Opt for torches and candles instead (and even fairy lights for a romantic outdoor aesthetic).
Set your times – The ideal timing would be to begin your camping 'expedition' in the early evening and 'head back home' in the morning after breakfast. This is long enough to commit to the camping lifestyle but not so long that you miss 'home'. But make sure you fully commit to the camping 'trip' though – no cheating by running inside quickly because you forgot something!
Thermos drinks – Start your journey with a hot beverage like coffee or hot chocolate in a large family-size thermos which you can sip on and use to keep your hands warm as you set up camp.
Campfire Dinner – You can kill two birds with one stone by using a braai as a campfire. Camp around the braai as each person braais their own food, makes s'mores and shares stories.
[Pro Tip: Create your own fire pit in a terracotta pot lined with foil, using just charcoal and fire lighters.]
Trail mix – Pack an exciting breakfast trail mix for the morning as you pack up camp before heading 'home' to end the 'trip' on a sweet note. If you're stuck, see some trail mix recipe ideas here.
In Your Hometown
Stepping out of your home but not sure where to go? 
We know that charity begins at home, but tourism can, too! 
Pretend you're visiting your town for just a day (or a weekend if you're in a bigger city). How do you usually go about planning your holidays?
Planning:
Make a list of everything you want to get done (use tourist brochures and websites).
Plot your time of arrival and departure.
Make an itinerary with all of the attractions and restaurants scheduled.
Execution:
Dress the part (we all have a holiday look, paired with comfortable shoes!).
Pack the car with everything you need for the day (or weekend), such as snacks, jackets and your backpack.
Play some road trip tunes and head out!
Extra Ideas:
Tourist attractions that your city or town is famous for (e.g. The Donkin Heritage Trail in Port Elizabeth; Signal Hill in Cape Town; the Voortrekker Monument and Union Buildings in Pretoria)
A day visit to nearby game parks and nature reserves (e.g. Beachwood Mangroves Nature Reserve in Durban; Addo Elephant Park near Port Elizabeth)
Visit local or regional museums (e.g. Zeitz MOCAA in Cape Town; Constitution Hill in Johannesburg; Durban Natural Science Museum in Durban)
[Pro Tip: If you've seen some of the outdoor attractions before on foot, try changing perspective by visiting it by bicycle or rollerblades, for example.]
So get creative no matter the environment and optimise your performance naturally with Merrell.